Tips for Picking a Color Scheme for Your Interiors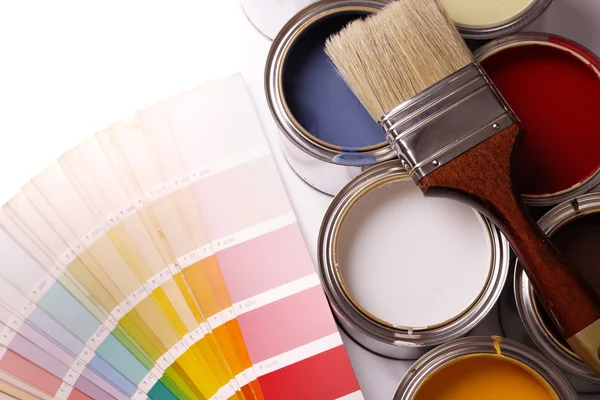 Whether you're building a new home or planning a remodel, one of the most important steps in interior design is choosing the color palette. Colors change the environment and appearance of your space, and may even impact your mood and productivity. Below are just a few of the top tips to help you choose a color scheme when it's time for your interior painting project.
1. Consider the Purpose of the Room
Functionality is the main factor to consider when choosing a paint color scheme. For instance, kitchens often look best with warm, hearth-like colors capable of disguising signs of wear and tear, such as goldenrod, beige, or dusty red. If you want your bedroom to be a relaxing oasis, choose neutral tones, such as white, soft gray, cream, or beige. A baby's room may benefit from soothing pastels, while a basement den will look coziest with dark, rich, and saturated hues like evergreen or burgundy.
2. Incorporate Color Theory
Studying color theory will help you find the right palette for interior painting. For instance, a room with complementary colors, such as blue with an orange accent wall, will provide contrast and bold visual interest. Knowing the moods of various colors will also impact your choice. Crimson, tangerine, and canary yellow are typically considered energizing and vibrant, making them best for areas of the home used during the day. Shades of blue, lilac, or mint are cool and relaxing and therefore often used in bedrooms and bathrooms. Online palette creators are also handy shortcuts for finding suitable color pairs.
3. Choose a Focal Point to Complement
If you're painting over the walls in a room and already have your furnishings, choose a color that best complements the main focal point of the room. For instance, if you have a statement sofa upholstered in quartz rose fabric, you might want to pair it with matte white walls that will help it stand out. Alternatively, a subtly contrasting color like sage or light charcoal could help modulate its brightness.
Ready to Transform Your Space?
When you're ready to hire a professional for interior painting, turn to the friendly team at Wenner Brothers. For over 50 years we've delivered home improvement services to residents throughout Fairport, NY, and surrounding areas, including interior painting. If you're having a hard time choosing a palette for your home, we partner with Benjamin Moore® color consultants who will help you make the right choice. Call (585) 425-2718 to schedule an appointment or request a free estimate.