Transform Your Room With a Fresh Coat of Paint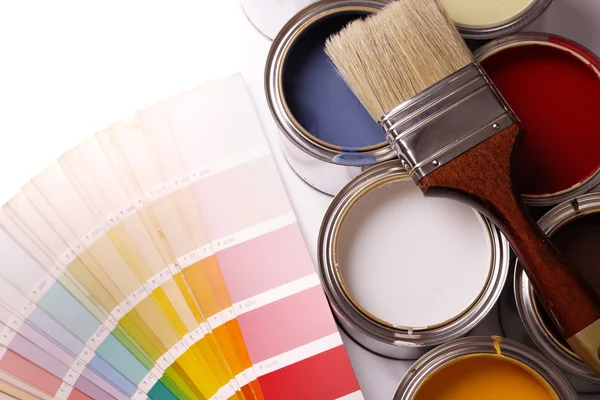 One of the biggest transformations you can make to a room is a fresh coat of paint. But, to make the process go smoothly, there are some key factors you'll need to consider. As you look at the room you wish to paint, ask yourself what components or pieces of the puzzle, if any, are in good shape and what components can you work with?
Trim Color Considerations
If the trim and doors or millwork are in good shape, you can save quite a bit of money by just doing a deep cleaning on it instead of painting it. Trim and millwork can be as costly or even more expensive than changing your wall color. We usually ask early on if the trim color is something you wish to retain, as that's one of the first things we start working on when it comes time to prep and paint the room. Part of the reason trim painting is a relatively costly element is because it should be lightly sanded and cleaned with a proper phosphate-free cleaning product. Any needed caulking would also be included as part of the preparation, with the final step being to apply a good top coat product. As you can see, there is lots of prep work before the paint even gets applied!
We have really enjoyed working with the Benjamin Moore Advance product on trim, in either semi-gloss or gloss. It costs a bit more than other products by about $12-$15 a gallon, but it levels out superbly and is very durable — much like the old oil paints that were once available decades ago. Using a good product on your trim and millwork after proper preparation is an investment, one that will often survive several wall color changes to come.
Regarding any of the paint that we work with: We subscribe to the school of thought that, if you purchase a good product in the beginning, you will spend less long-term because it will last longer. We use Benjamin Moore as our go-to product simply because it's a beautiful product to work with, holds up well, and is respected by a majority of our clients. We will work with other brands if that is the client's request.
Ceiling & Wall Color Considerations
After you have determined your game plan with your trim and millwork, it's time to move on to your choice of ceiling color, and finally, the choice of wall color. Many customers have asked, "There are so many choices, how do I choose?"

Generally, ceilings get painted in a flat white. Although there are pure whites and off-whites in either cool or warm tones, flat refers to the sheen of the paint. Flat, or paint with no shine or sheen, is the standard choice for rooms that will not have high moisture, such as bathrooms or kitchens without a good ventilation system or range hood. For bathrooms that contain a shower or tub, or a kitchen that gets used very heavily, eggshell is a good choice, as it is more durable.
Wall colors are typically done in an eggshell, but many sheens are now available. A few builders will use a flat or matte on the walls when a house is first built, as these have no sheen to them whatsoever and hide most of the wall imperfections. In general, the more sheen or shine that you have in your paint, the more you will see the imperfections of your wall. After eggshell or low luster paint, you also have pearl finish (at least in the Benjamin Moore product line). Although the eggshell is the most common, as it gives you durability but not excessive shine to showcase flaws in the wall, pearl is becoming a popular selection for many. It is good to point out that darker colors and a higher sheen will definitely showcase any flaws in your walls that you may not have even known were there.
Sheen Considerations
Sheens are more commonly used in your trim and millwork than your walls. First is satin or soft gloss, followed by semi-gloss, and then finally high-gloss. Trim or millwork usually receives the greatest punishment, thus it usually receives the highest sheen. This is also true for cabinets bookshelves or anything that receives hand traffic and may be frequently wiped down.
It is important when choosing a color to make sure you're looking at it in the sheen you anticipate using. Many times a color will have a lot more depth or appear much different depending on the sheen of the sample you're holding. It also will reflect light differently depending on where you place it on the wall in the room you plan on painting. It's always a good idea to put the sample in the correct sheen on a few walls, one that will receive natural light and another in an area that does not during the daytime. Don't be afraid to look at that color for a few days coming back to it with fresh eyes both during the day and night to see if it's a color that sits well with you. Also, any color you may choose in any product lineup can be re-created with paint scanners — your choices are truly unlimited!
Ready to Transform Your Space?
Remembering these steps when choosing paint colors and paint sheens can really make a huge transformation in the room you wish to paint. Many clients cannot believe how much a room can change simply by painting it. Have fun with the creative process! Look online, as many share photos of their projects and the transformations that have taken place. Often times you may have a room very similar and it becomes easier for you to visualize what could be in your home. Let us know if we can be of assistance during this exciting process for you and your family.